Girl Power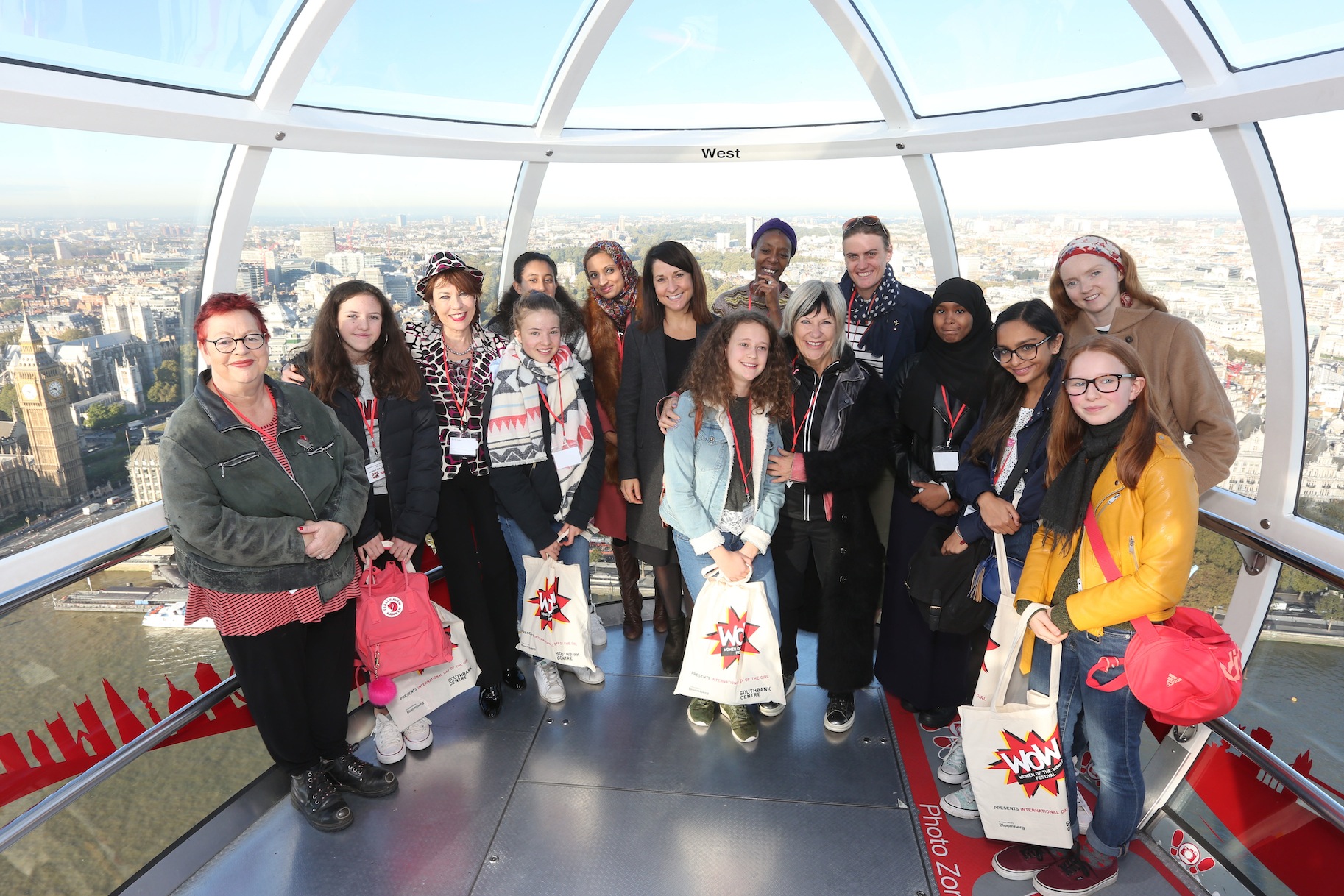 Posted Wednesday 19th October 2016...
When do you get an MP, TV news presenter, fashion activist, commercial director, charity founder and a diocese (all female) riding the London Eye at 8am with a posse of schoolgirls? At the incredible WOW (Women Of The World) festival that's when. MIH founder Sarah Bentley boarded the wheel.
As founder of MIH, I was stoked to be invited to the WOW speed-mentoring event to celebrate international Day Of The Girl. This is an event that attracts women of the ilk of Annie Lennox, Vivienne Westwood and Jo Brand – and this year, little old me.
How the morning works is eight women of 'experience' board the pod as mentors alongside eight schoolgirls age 13-17 years old. The mentors give a quick introduction about who they are and what they do. The girls pick three mentors to chat to for fifteen minutes each – all while merrily dangling above the Thames in a London Eye pod. Dramatic.
My girls, aged 17, were epic and if anything they mentored me. One was off on a trip with World Challenge to Cambodia. Another was a midwife-in-the-making and was about to shadow a homebirth midwife. And the other was thinking of travelling to expand her mind and, 'get to know myself better,' before choosing whether to go to uni or do an apprenticeship. Wise soul.
We talked about the value of work experience. Following your heart. Listening to your gut. Getting good advice. Getting mentors. How to cope with a crisis at work, especially a crisis you're responsible for. They loved my anecdote about being rejected from the London College of Fashion three times before finally getting a place and eventually becoming one of only two students out of 80 to leave with a first. Dogged determination – it can take you far.
The mentoring was followed by a gathering in the Royal Festival Hall. A panel of power women lined up to share their truths about making it in let's face it is still a sexist, unequal, prejudice world. Anyone who believes this is a non-issue in the UK needs have a serious reality check.
In 2015-16 incidences of 'reported' violent crimes against women rose 10% to 117,568. Unreported incidences experts guess it to be anything from 10 times this figure upwards. Author of The Gift Of Fear Gavin de Becker infamously said what women most fear about men is rape and violence. Most men however, fear women laughing at them. Yeah. Wow. In the workplace women earn 18% less than men for the same job, with this going down even more after women have children. Welcome to the UK and gender politics in 2016.
The panel is epic and refreshingly candid in their sharing. Channel 4 news presenter Fatima Manji told us how, aged 10, a male journalist told her she'd never read the news because she wore a headscarf. To which she replied. "I can and I will and there's nothing you can do to stop me." She also talked about why she felt she had to "stand up" to Sun editor Kelvin MacKenzie when he outrageously wrote he was offended by her reporting on the Nice terror attacks, whilst wearing a hijab. She told him 'this is what human rights looks like in the 21st century' and he 'needed to get to the table and suck it up'.
Frances Morris, Director of the Tate Modern and the most powerful global figure in modern art, shared how it took the support of her colleagues to give her the confidence to apply for the Directorship and get over her own sense of inadequacy.
Chi-chi Nwanoku, double bass player and founder of the world's first orchestra of ethnic diversity Chineke!, shared a story about her parents being told at a Royal Academy of Music event that their daughter would never succeed professionally as she had chosen a 'man's' instrument. And finally a 16 year-old head prefect at a Tottenham secondary school (they did away with the term head girl as unnecessary gender typing) gave a talk so inspiring it made me cry three times.
These various tales of overcoming the patriarchal status quo got me thinking about MIH's story. Right at the very beginning of the project I had an experience that could have stopped the kitchen doors ever opening.
Having liberated us of close to £45,000 and been working on the job for 3 months, our recommended builder did a runner leaving us with a completely unfinished, unusable kitchen. He sent an email explaining the money had run out (like it was our fault) and that there was, "Just a little snagging left to do. I've left you a bottle of grout removal liquid. Good luck."
A "little snagging" was in reality all the doors, all the painting, all the tiling, all the carpentry and correct installation of the units – as what was there had been installed completely incorrectly.
I telephoned him endlessly to no avail. I threatened legal action and to go to the press, to which he replied by text. "Do Your Worse Lassie. X" That's right. He put a kiss on the end. In just four words and a symbol he'd manage to be threatening, menacing, derogatory and play a sexist power game. The message filled me with rage. We'd been working with this man every day for three months, longer including the prep stage, and this was what he thought of us.
I plotted revenge. I was going to show him exactly what 'this lassie' was capable of. I planned to flood his social media account, go large on press, contact rogue builders TV show, take legal action (we later found out this would have been futile as he already had no credit rating) – the full works.
But then something inside me told me this wasn't the right course of action. Not right now. We had a community kitchen to build and open. A community kitchen that was much needed and would benefit thousands of people every year. Everyone was tired. We couldn't wage a revenge campaign and open a successful new social enterprise.
I scaled back the revenge to a few quickly fired off emails with descriptions and images of his 'work' to his PR and Marketing contacts and to the Grand Designs Event team (where he has a stand most years) and turned my attention back to the kitchen.
When one person takes an almighty dump on your head, if you're doing good works I've usually found there's an army of people willing to clean you down – and without laughing at you either (well maybe just a little bit). And that was the case now.
Droves of local volunteers gave hours of their time to sand, varnish, tile, saw and finish our beautiful eco-community kitchen. For three weeks we'd stagger out the venue covered in dust and paint, sometimes as late as 2.30am. We finished and opened nearly on time with just one class needing to be rescheduled. Five years later we've helped close to 5,000 people lead healthier, happier, more environmentally sustainable lives. This is what "this lassie" can do - me and all the other amazing MIH lassies (and lads!).
Sadly the young girls assembled for the WOW event will no doubt experience countless sexist experiences in their personal and professional lives – some far more nefarious and worse than what I've just described. But as more and more women achieve incredible things and readdress the balance of power, the less prevalent such behavior will become.
I can't wait to see what the WOW cohort of teenage girls will achieve. If the determination, ambitions and empathy present in the London Eye pods that morning were anything to go by – we're in for some exciting times ahead.
The London Wow festival runs annually at the Southbank Centre
To read more inspiring blogs click here