We're looking for new Trustees!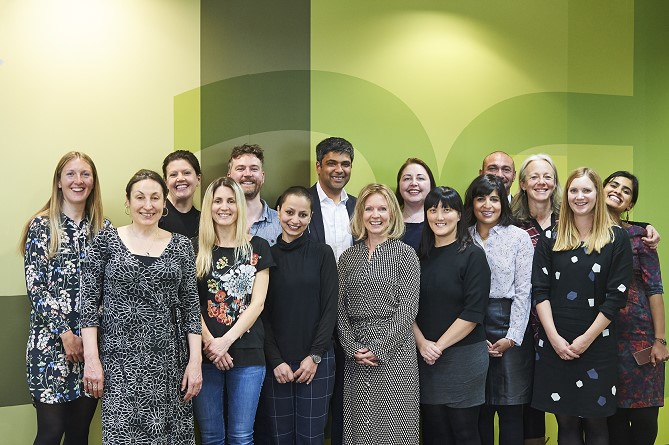 Posted Tuesday 16th February 2021...
***************************************************
THESE VACANCIES HAVE NOW CLOSED
**************************************************
We're on the look out for some new Trustees to join the Made in Hackney Board. Read all the details below to find out more.
The Trustee Position
You will join a proactive board, who have a passion for the charity and work well together. You will enjoy being part of an exciting and dynamic organisation and the community it serves. This year we will begin several critical strategic projects, making it an interesting time to join the board.
A key part of being a trustee is to contribute to the work of the organisation by sharing skills, contacts, experience and new perspectives. We need motivated individuals to help support us with implementing our plans for the future.
We are particularly interested in candidates who have, but not limited to, experience in one of the following areas:
Law
Public health, Medicine, Dietary health
Technology, Digital Strategy, Mobile Application Development
Communications, Social Media, Social Investment and Impact
Business, Finance, Accountancy
Entrepreneurial, Product Development
Fundraising, Collaborative Partnerships and Major gift Fundraising
Human resource management, Diversity, Inclusion and Anti-Racism
Role Requirements
The role of the Trustee is to ensure that the organisation complies with its governing document (constitution) in addition to any relevant legislation and regulations. Trustees need to contribute actively to the role in giving strategic direction to the organisation, reviewing policies, goals, and targets, and evaluating performance of the organisation.
The ideal candidates will have innovative ideas and be able to think creatively whilst recognising budget limitations. An understanding of the voluntary sector and previous experience as a charity volunteer or Trustee are both desirable but not essential.
Trustees have independent control over, and legal responsibility for, a charity's management and administration.
Trustee Duties
Ensuring the organisation pursues its stated vision and mission (purposes), as defined in its CIO governing document (constitution), by reviewing and developing a long-term strategy/business plan
Ensuring that the organisation complies with its CIO governing document (constitution), charity law, company law and any other relevant legislation or regulations
Ensuring that the organisation applies its resources exclusively in pursuance of its charitable aims (i.e., the charity must not spend money on activities that are not included in its own aims, however worthwhile or charitable those activities are) for the benefit of the public
Ensuring that the organisation defines its goals and evaluates performance against agreed targets
Supporting our dynamic MIH team to help think through ideas, problem solve whilst also being a critical friend when the situation demands it
Ensuring the financial stability of the organisation
Ensuring the effective and efficient administration of the organisation, including having appropriate policies and procedures in place
Protecting and managing the property of the charity and ensuring the proper investment of the charity's funds
Ensuring the organisation is following proper and formal arrangements for the appointment, supervision, support, appraisal, and remuneration of senior staff and supporting this process
Safeguarding the good name and values of the organisation
Trustee Values and Person Spec
· Integrity
· Strategic vision
· Good, independent judgement
· An ability to think creatively
· A willingness to speak their mind
· An understanding and acceptance of the legal duties, responsibilities, and liabilities of trusteeship
· An ability to work effectively as a member of a team and to take decisions for the good of Made In Hackney
Time Commitment
Induction. Reading all the necessary induction documentation to fully understand the role and expectations of a Charity Trustee and attending additional training if considered necessary
Board Meetings. Regular attendance of 6 Board meetings per year (held in the evenings 6.30-9pm and online during the pandemic)
Ongoing Support. Provide 4-10 hours a month proactive help in addition to attending meetings – e.g. contributing to Board Sub Committees on areas such as Safeguarding, Anti-Racism, HR, Finance, and future strategic topics. Other support may involve providing advice and guidance on new initiatives in which the trustee has special expertise.
Location
Board Meetings are usually held in Central London, however, currently on-line during the Covid-19 lockdown.
Benefits
A career development opportunity – a chance to help shape the future direction and growth of a community food charity and develop valuable experience in the sector
A meaningful way of giving back and ensuring the success of a charity working to address spiralling ill health and food poverty
Networking opportunities with other influential trustees
Trustees are volunteers who give their time, skills, and expertise for no financial gain. Reasonable expenses will be reimbursed in line with the Trustee Expense Policy.
Eligibility and Equal Opportunity
We value diversity in all forms. We therefore support and encourage people from diverse backgrounds and experiences to apply.
We positively welcome applications from people with lived experience of food poverty in the UK. We also recognise the need to give young people opportunities and exposure and so if you are a young person (under 25) looking for your first Trustee position please do not hesitate to apply.
To Apply
*************************************************
THESE VACANCIES HAVE NOW CLOSED
*************************************************
Please send a CV and Cover Letter stating how you feel your skills are relevant to the role and send to:
Jean Carrol, Chair of Trustees
E Mail: jean.carroll.mih@gmail.com
Timeline to Apply: We encourage applicants to apply by 31st March 2021 but will offer flexibility with this date in order to reach the right candidates.
If selected, you will be invited for an online interview to discuss the role in more detail.
Guidance from NCVO on the Role of a Charity Trustee
*************************************************************************************************************************************
Background on Made in Hackney
Made In Hackney is a pioneering, plant-based community cookery school and charity. Our mission is to help people grow, cook and eat more plants – to improve not only the health of our communities, but the planet too.
We opened our doors in September 2012 as a project of charity AMURT UK and due to subsequent growth and success became an independent charity in 2017 when the Board was established. We have delivered over 2,000 classes, helping to bring about improved health and wellbeing, skills development and community connection to well over 15,000 people.
From March last year in response to the pandemic lockdown, Made In Hackney paused the usual programme of activities and launched a COVID-19 response, which included online cookery classes, telephone support (including one-on-one classes), and an emergency direct to door community meal service. As of February 2021, over 65,000 free emergency community meals have been delivered.
In pre-COVID days, Made In Hackney ran face to race community cookery classes with young carers, refugees, low-income families, and many other community groups to provide a space to learn the practical skills to lead healthier, happier more connected lives.