I've seen my borough in a whole new light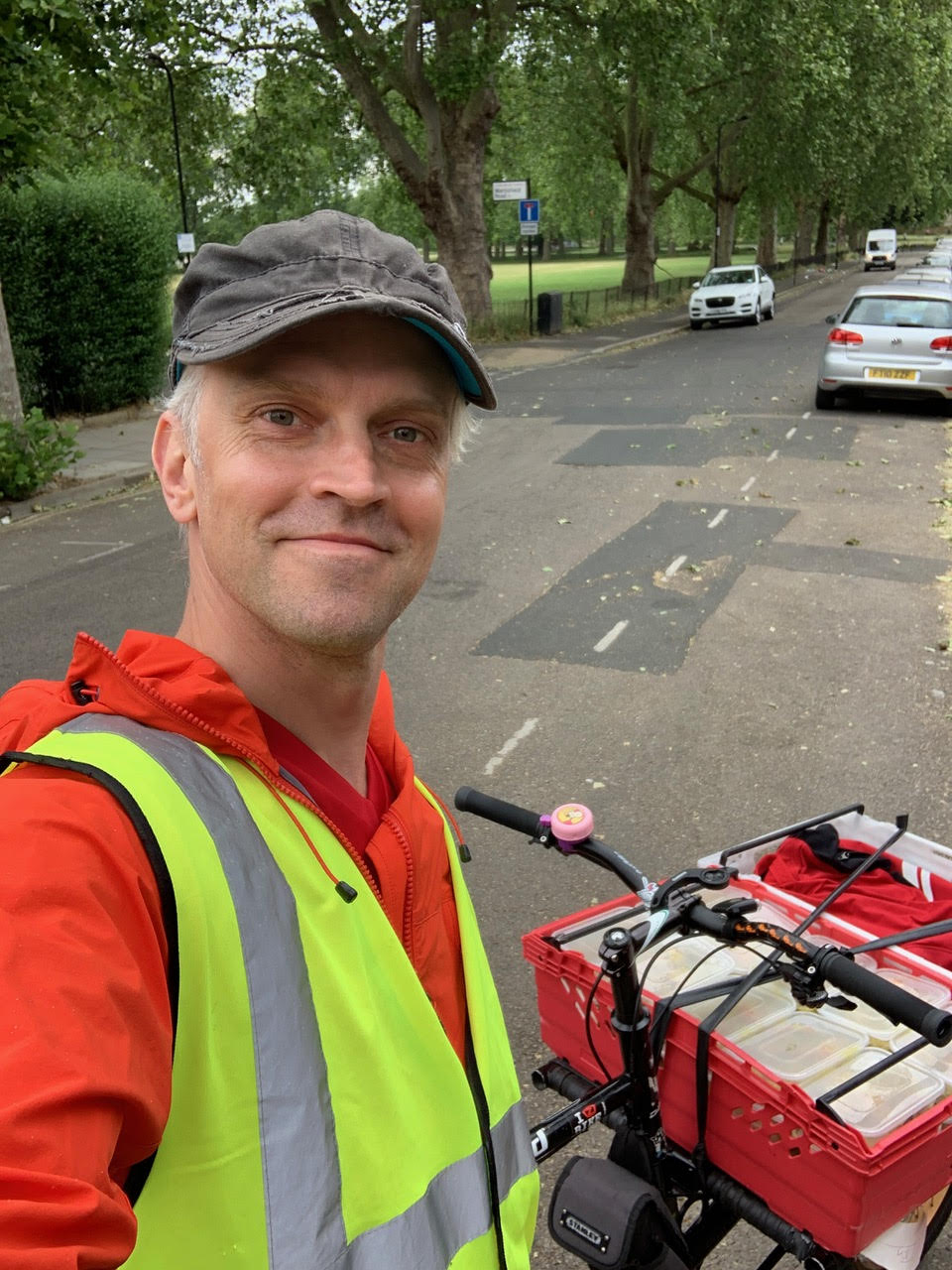 Posted Friday 5th June 2020...
It's Volunteers Week! And we're celebrating our amazing volunteer family. There are too many to all name individually so we'll be highlighting just a few of these generous souls to acknowledge our huge gratitude for the enormous contributions they are making during these challenging times.
Next up this week is James Weaver, one of our volunteer cycle couriers in conversation here with our founder Sarah:
Sarah: Hi James, Thank you so much for your support these past few months. Were you volunteering with Made in Hackney before the covid19 crisis?
James: No I wasn't but I had taken part in a community cookery course run which is how I heard the call for cycle volunteers nice and early.
Sarah: What was your employment situation before the Covid19 crisis and has this been affected?
James: I have three forms of employment; firstly I am a freelance actor, and as soon as the pandemic was proclaimed it was clear all theatre and TV job opportunities would disappear for most if not all of the year. Secondly I am a freelance rock climbing instructor. I work solely outdoors and as such all existing dates were cancelled and no private clients have booked new trips for this year as yet. My final fill-in job is the one that saved me - I work part time in a climbing equipment shop. They put me on furlough which has meant at least a reliable source of income from the government each month.
Sarah: Tell us about your role volunteering with us during the crisis?
James: My partner and I received the MIH newsletter calling for volunteers. As we were both unable to work due to our places of employment grinding to a halt, we jumped at the chance to help and fill our time with useful activity. We have a car and we both cycle regularly so we offered those services. MIH have made use of my car on a couple of occasions when I collected veg from the lovely people at Wolves Lane and I've been both a Cycle Buddy and a Cargo Rider for 3 - 4 days every week since day 2 of the scheme. My friend Rory owns a cargo bike and when MIH were struggling to find cargo bike owners I called him to see if he wanted to volunteer. He was in the same situation as I am, work wise, and so we've been riding together for quite a few weeks now. We make a good team. I borrowed his bike to be the cargo rider for a week when he was injured - it gave me a new found respect for the cargo riders! Those bikes are tricky to handle when fully laden and its hard work pedalling!
Sarah: How has performing this volunteer role affected your experience of lock down?
James: It has given me a purpose and a sense of well-being, drive and direction in an otherwise tedious period stuck inside the four walls of our flat. When it first became clear that elderly and vulnerable people would be forced to self-isolate inside their homes, my instinct was to help by shopping for food or going to the chemist for them. I wanted to use my dead time by helping if I could. So when I saw the request from MIH it was exactly what I was looking for.
I have met new neighbours (quite literally as I've been delivering on my street!) and fellow Hackneyites on streets and estates that I've never explored before. I've seen my borough in a whole new light, enjoyed regular chats with meal recipients and I've been touched by some of the experiences of the people I've met. I was even driven to buy a microwave oven for one particularly unfortunate man who had been rehoused into a flat without contents or furniture. He was sleeping on the floor without a mattress and had no means to reheat the food we were delivering. I discovered this simply by asking how he was doing. To be able to heat the food to feel safe and sound strikes me as a basic necessity so the next day I nipped to a shop and delivered the microwave to him.
Sarah: What are the most rewarding (and the most challenging aspects) about performing this volunteer role?
James: Dealing with the weather is a challenge whilst cycling of course, as is the traffic which has worsened since the lockdown has eased. We've had a few windy days but not too much rain - yet!
Using the bike for longer periods most days of the week has meant that bike maintenance has been essential (that is both rewarding and challenging!) Seeing the pleasure and gratitude in the responses of the meal recipients has been especially rewarding. Loads of passers by have expressed gratitude for the work we're all doing - one family stopped to applaud as Rory and I cycled past! The situations and stories of many meal recipients can be difficult to hear which is itself quite a challenge. The delivery days can be emotionally draining at times.
Sarah: How would you like to continue volunteering with us once the government lockdown eases?
James: This is the first voluntary job I've ever had, mainly due to living a busy life with an unsettled varied schedule. This has always made it difficult to consider volunteering. If my work schedule allows, I will try to volunteer some of my time to MIH in the future. This cycle delivery job has been the best thing about the Covid19 lockdown for me. The memories I have will stay with me forever. It has helped me get through this time with comparative ease.
Thank you for giving me the opportunity. The work we've all done has been superb and hugely respected and rewarding for both those on the receiving end and all of us putting in the hours. Whoever's idea this was deserves a medal!
Sarah: Thanks James – you've been amazing.
We will be profiling our wonderful volunteers all week so check back to our home page each day to read more of their stories or click here to get direct to their stories: Rebecca, Amy, Myia, Rohini
---
---