Are you our new Cookery School Coordinator?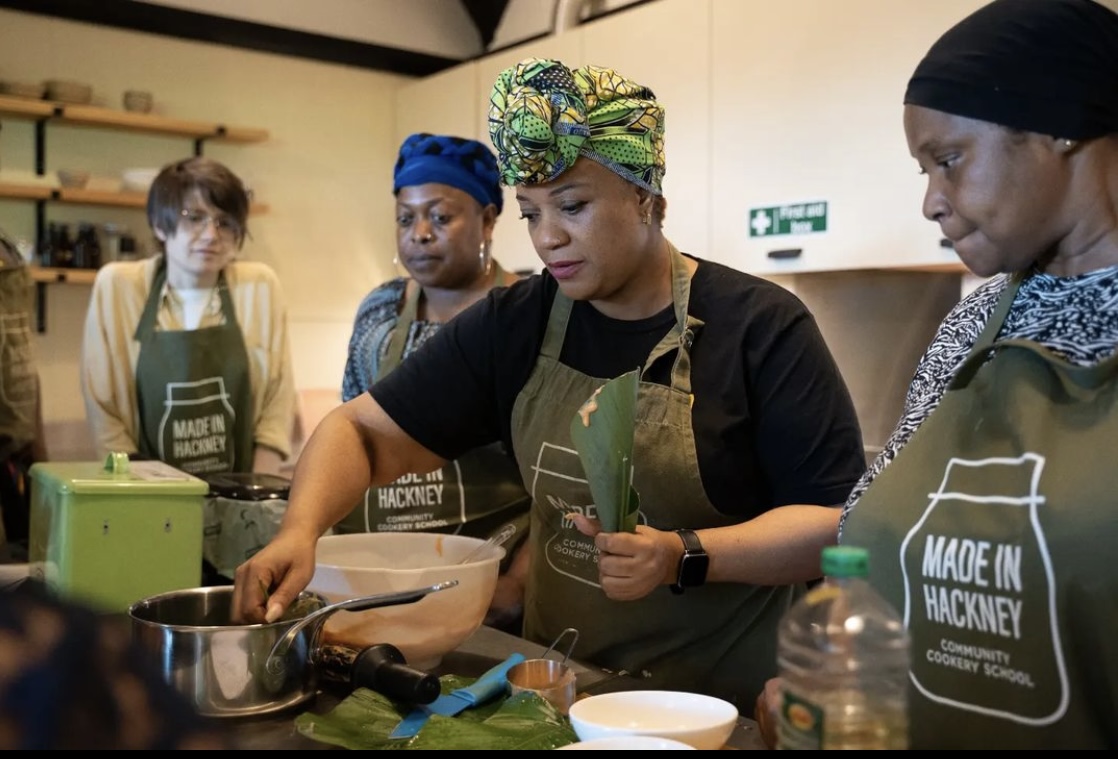 Posted Tuesday 20th December 2022...
THIS ROLE HAS NOW NEEN FILLED
We are excited to be sharing this brand-new vacancy with you! Made in Hackney is looking for a Cookery School Coordinator to join our team. Read on for more information about this great new opportunity.

Post: Cookery School Coordinator, Made in Hackney (MIH)
Hours: 21 Hours per Week
Contract: Permanent
Location: Liberty Hall, 128 Clapton Common, London E5 9AA
Salary: £16,500/annum pro rata 21 hours ideally over 4 days/week (FTE £27,500/annum)
Holiday: 15 days (plus bank holidays – see below for more details)
Reports to: Programme Manager
Operations Manager - for Salesforce data tasks
To Apply: Please send a CV with covering letter to Rashmi Joshi, Operations Manager (rashmi@madeinhackney.org)
Closing Date: 12pm Monday 9th January 2023, though we encourage you to apply as soon as possible as we will be scheduling interviews as we get applications and reserve the right to close the job early.

Responsibilities include:
Programmes Coordination
Proactively support the development, improvement and implementation of effective administrative systems to support the smooth running of class, programme and event delivery at Made in Hackney
Proactively support the coordination and delivery of the Made in Hackney class and event programme; on-site, offsite and online
Responsible for updating MIH website with all relevant class content; including class listings, recipes
Effectively manage class attendees, taking into consideration eligibility, participant's background and previous attendance
Develop an understanding of participants and their individual and group dynamics to inform class delivery
Manage target class numbers, ensuring maximum capacity is reached for each class
Be responsible for keeping accurate attendance records for reporting and funding purposes
Responsible for ensuring all pre and post-class/programme/event information and communication is sent to all relevant parties on a timely basis
Ensure the teacher is fully updated with all essential information regarding participants, group dynamics, allergies, safeguarding and ingredients for each class and/or event
Responsible for ensuring the kitchen, storeroom and attic are well-organised
Responsible for coordinating class and event fruit and vegetable delivery and checking dry pantry stock
Support the training and supervision of volunteer Project Assistants

Data
Responsible for ensuring all class, programme and event information and data is accurately recorded and updated in Salesforce CRM, including adding and confirming participants, inviting new participants and inputting attendance data
Responsible for the inputting and management of contacts and their engagement activities in Salesforce, including adding contacts to newsletter subscription
Ensure all classes in Salesforce comply with the unique naming system
Responsible for updating and ensuring the accuracy of all engagement information
Responsible for timely inputting of volunteer hours across all programmes into Salesforce (including cookery classes, community meal service and others as required)
Responsible for accurately recording in-kind donations on Salesforce for the cookery school programmes and events
Coordinate cookery class administration using Google Docs, Google Sheets, Google Forms, Zoom, Eventbrite and Salesforce
Responsible for inputting survey forms: inputting data from evaluation forms into Salesforce where required
General Administration
Responding to enquiries by email or phone
Providing excellent in-person customer service to all visitors to Liberty Hall
Providing administrative support to the MIH team
Coordinating with the Programmes Manager and Venue Manager to ensure Liberty Hall is fully equipped and presentable for class/event use
PERSON SPECIFICATION
Administration coordination experience with a wide range of skills including:
- Excellent and proven administrative ability and capacity to follow, develop and improve processes to a high standard
- Ability to work with CRMs and other data systems
Excellent organisational skills and the ability to manage a variety of complex tasks simultaneously
Methodical and excellent at prioritising and balancing workloads
Strong communication and interpersonal skills and the ability to deal with, and have empathy for, a diverse range of people including vulnerable groups
Be able to work with under own initiative and as a member of the MIH team
Excellent attention to detail
Excellent verbal and written communication skills and an ability to communicate clearly with a range of people from diverse backgrounds and cultures
Solutions focussed, with the ability to take initiative, problem solve, and think creatively
Enthusiasm, energy and a positive attitude

BENEFITS
Training provided in Salesforce, Safeguarding Adults and Children, Emergency First Aid, Food Safety etc
Employee Assistance Programme (EAP) which includes counselling and physiotherapy
Staff well-being and social activities throughout the year
Quiet time working – the opportunity to work flexibly over the Christmas and summer period – See Annual Leave Policy for full details
Pension Scheme
Staff discount of 15% in Food For All Shop

Equal Opportunity
We have a strong commitment to promoting diversity, equality and equal opportunities. We welcome applications from underrepresented groups, whether these be of ethnicity, gender, identity, religion, physical ability, sexual orientation or other
To Apply: Please send a CV with covering letter to Rashmi Joshi, Operations Manager (rashmi@madeinhackney.org)
Deadline: 12pm Monday 9th January 2023, though we encourage you to apply as soon as possible as we will be scheduling interviews as we get applications and reserve the right to close the job early
Post commences: As soon as possible after appointment
---
---