***Job Alert*** Community Programmes Manager - Apply now!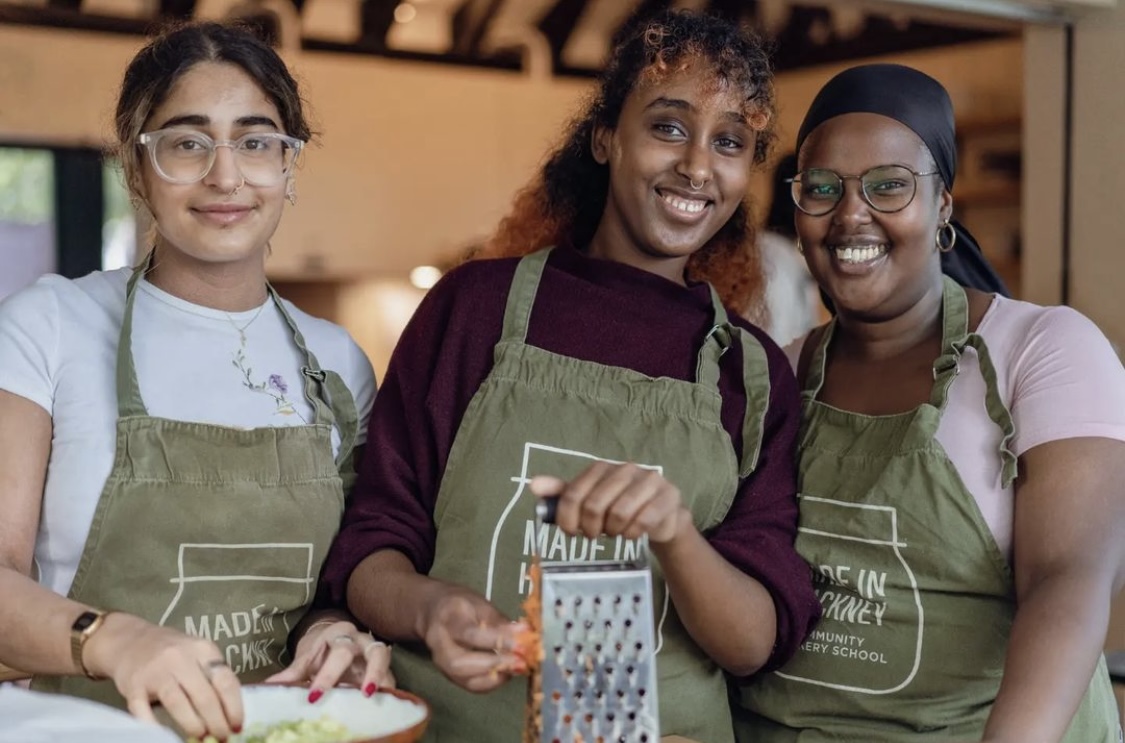 Posted Friday 21st July 2023...
We are looking for a talented programme manager who is passionate about creating opportunities for the community. Is that you? Read on....
Post:Community Programmes Manager (Cookery School)
Hours:4 days a week
Contract:Permanent
Location:Hybrid: partly home based and partly at Liberty Hall, London E5 9AA
Salary:£35,000 per annum (pro-rata)
Holiday:20 days (plus bank holidays – see below for more details)

SUMMARY
Made In Hackney (MIH) opened its doors in 2012 as the UK's first fully vegan community cookery school. We believe everyone should have access to healthy, affordable food that's good for people and planet. We collaborate with communities to provide free nutritious meals and to share the skills to grow, cook and eat more plants to improve not only the health of people but the planet too.
The heartbeat of our organisation is our community cookery and food growing classes. These sessions are opportunities to come together, share and learn new skills and cultural cuisines, deepen community connection and inspire positive and lasting behaviour change.
We are looking for an experienced Community Programmes Manager who will lead the further development and delivery of our Community Cookery Class Programme.
The experience of working for Made In Hackney is unique and rewarding. There is plenty of room to be creative and bring new ideas. As we celebrate our 10th year, it is a hugely exciting time to join us as we continue to develop our programmes and approach to create impactful experiences for our community.

Managing MIH's engaging Community Cookery School programme
You'll be responsible for MIH's community cookery school programme of themed free community classes. This includes a variety of tasks:
Manage the delivery of all community cookery programmes from end to end including; liaising with partners, briefing cookery teachers and chefs on MIH food guidelines, and gathering feedback.

Adapting the programme to meet community needs and feedback, grow our impact and meet the priorities of funders and partnerships.

Manage programme expenditure, ensuring all community courses, classes and activities are delivered within budget. Participate in organisational budget planning and monitoring meetings.

Manage recruitment, retention and development of a diverse team of freelance cookery teachers to deliver classes and events.

Develop relationships with stakeholders and partner organisations. Engage with new participant groups, including community organisations, local authorities, housing associations, schools and charities to increase reach and participation.

Organise community outreach event stalls for MIH with suitable partners in order to recruit community class participants and raise MIH's profile. Attend networking events to develop strong strategic partnerships in the community.
To be successful, you will work closely with other MIH team members, including:
Manage the Cookery School Coordinator and provide cover for the classes team when required.

Work with the Volunteer Manager to place volunteer class hosts and in conjunction manage volunteer project assistants.

Work with the Development Manager utilising evaluation and impact data to identify gaps in service delivery, and identifying opportunities to address local needs and barriers to participation. Support with the compilation of additional information for reports for funders and ensure all outputs and activities are delivered for secured grants.

Keep Venue Manager informed of any venue issues and equipment needed, and make proactive suggestions to improve the user experience.


Collaborate with the Marketing team in order to ensure the community programme classes and activities are publicly promoted and featured on all marketing channels. Promote classes and courses both to outreach contacts and directly to community participants, using a variety of database lists and templates in Canva.

Provide regular updates and attend team and trustee meetings to provide updates regarding progress of community activities.

PERSON SPECIFICATION
The ideal candidate will have:
A strong project management skills with a flair for multi-tasking and problem solving.

Natural relationship building skills and experience of fostering partnerships with a diverse range of organisations.

Ideally have experience of working in community education or community health and a detailed understanding of, and passion for the health and environmental issues underpinning Made In Hackney's food policy; local, seasonal, organic, and plant-based.

Experience of the development and delivery of community-centred programmes with a track record of successful beneficiary engagement and positive outcomes.

Experience networking and developing partnerships with a wide variety of organisations from the third sector, public sector, schools, primary care trusts etc.

Excellent administrative and IT skills eg. Salesforce/other CRM, Google Suite, Canva).

Experience with or knowledge of teaching, food growing and/or environmental issues would be welcome.

BENEFITS
Training provided in Salesforce, Safeguarding Adults and Children, Emergency First Aid, Food Safety etc
Employee Assistance Programme (EAP) which includes counselling and physiotherapy
Staff well-being and social activities throughout the year
Focus time working – the opportunity to work flexibly over the Christmas and summer period – See Annual Leave Policy for full details
Pension Scheme
Staff discount of 15% in Food For All Shop
Equal Opportunity
We have a strong commitment to promoting diversity, equality and equal opportunities. We welcome applications from underrepresented groups, whether these be of ethnicity, gender, identity, religion, physical ability, sexual orientation or other.
To Apply:
Please send a CV with covering letter to Rashmi Joshi, Operations Manager (rashmi@madeinhackney.org)
Deadline: 5pm on Sunday 20th August 2023, though we encourage you to apply as soon as possible as we will be scheduling interviews as we get applications and reserve the right to close the job early.
Post commences: As soon as possible after appointment.